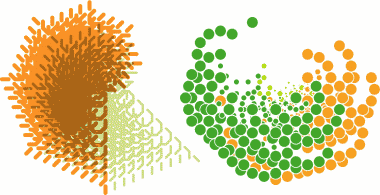 Typically, I define an L-System like this:
axiom = A
A = [-FA][+FA]
which grows like this:
0th: A
1st: [-FA][+FA]
2nd: [-F[-FA][+FA]][+F[-FA][+FA]]
3rd: [-F[-F[-FA][+FA]][+F[-FA][+FA]]][+F[-F[-FA][+FA]][+F[-FA][+FA]]]
and so on. This produces a long string, in which each character represents a command to a drawing cursor. - and + turn the cursor, F moves it forward leaving a line, [ and ] push and pop cursor states to a stack. This one produces a simple tree.
Anyway, every time I've wanted to write an L-System graphic to a new format I've had to write another interpreter for these command strings. Yesterday, I tried something new: using actual code in the L-System definition, resulting in immediately usable code.
For example, the definition for the above L-System in psuedocode SVG is:
axiom = <doctype> <svg> A </svg>
A = <g transform="..."> <line ...> A </g> <g transform="..."> <line ...> A </g>
which produces a valid SVG file. The <g> element replaces the brackets in the original, as they perform the same function: saving the cursor coordinates before and restoring those after the </g>. The - and + are replaced by the transform attribute in <g>. The F is replaced by a <line>.
I'm sure this isn't a new method; in fact, I'd bet this was how the first combination of L-Systems and LOGO was implemented. For me, though, this is a huge improvement in how I work with L-Systems. I get to avoid designing a whole grammer and parser to take advantage of SVG's features.